Pudding Ball is the "B" part of the seventh episode of Season 1 of The Weekenders. It was paired with "Party Planning" and originally aired on April 22, 2000.
The gang competes in a pudding throwing contest. However, aggression and competing go near the heads of the four.
The episode starts out with Tino at the park, where the gang is signing up for the event of "Pudding Ball", a game where you "throw pudding at the other kids before they throw pudding at you" and hosted by 3 Cheers for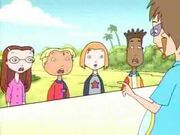 Kids and the funds going to
Helpers Helping the Helpless
. After explaining the rules, Tino frets over whether pudding ball is a game or a sport, and the gang reassures him that they'll all be on the same team. Proven wrong, when they go to sign up, the gang is told they have to be on two teams of two. Tino and
Tish
 are on one team, with
Carver
 and
Lor
 on the other. 
On Saturday, the game has started, with Lor and Carter being the ones to beat, and Tino and Tish not doing half bad either. The day goes on, with almost all of the teams being eliminated. At the end of the day, Tino and Tish and Carver and Lor are the only teams left, which means that, contrary to belief, they will be going head to head. Talking over pizza, Carter and Lor blame Tish and Tino of cheating, stirring a fight.
Sunday, after continually shooting and missing at each other, the gang is tired and is wanting to win more than ever. Both teams decide that the only way is to cheat. Tish and Tino set a trap so that when Lor and Carter reach to get a snack, they will get splatted by pudding, only to have the trap found and set off by Ned, the elected official. He banishes them from the games, and goes of to find Mrs. Duong. Even after continual pleading from Tish and Tino not to follow Mrs. Doung's supposed voice, Ned is hit yet again, this time by Carter and Lor's trap. After both being caught and disqualified, Tino, Tish, Carter, and Lor are punished to clean up all of the pudding. After Tino tells the gang that it's okay to compete, but only if they stay by the rules, and keep their heads on, Tino signs off with the usual "later days!"
The Pizza Parlor is now space-themed, the name now being Deep Dish 9.
The lesson is to keep to the rules and don't go overboard, otherwise simple games turn into politics.
Ad blocker interference detected!
Wikia is a free-to-use site that makes money from advertising. We have a modified experience for viewers using ad blockers

Wikia is not accessible if you've made further modifications. Remove the custom ad blocker rule(s) and the page will load as expected.