The Weekenders
Crush Test Dummies
Season 1, Episode 1A

Original Airdate
February 26, 2000
Written by
Doug Langdale
Directed by
Steven Lyons
Episode Guide
previous
None
next
Grow Up
Crush Test Dummies 
is the "A" part of the first episode of Season 1 of
The Weekenders
. It was paired with "
Grow Up
" and originally aired on February 26, 2000.
Lor wishes to act on a crush she has on a boy. But, what happens when Carver thinks that her crush is on him?
The episode opens with Tino collecting snacks for the group from the Snack Shack, while introducing the show. He then walks over to his friends,Lor, Carver, and Tish who are waiting on a wall facing the beach. Tino hands out the snacks and, after Lor says that he hadn't asked what they'd wanted, he replies that they are so in-sync that he had already known what they would have ordered. He was correct, and the gang enjoys their snacks.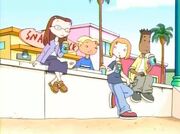 Later, at the mall, Tino and Carver decide they want to get chili cheese fries, and tell Lor and Tish to save the group a table. After they leave, Lor and Tish walk over to a table, and Lor spots Thompson Overman, the guy she has a crush on. Lor explains to Tish that she 'has to make him love her'. Tish offers to help Lor get Thompson to notice her, and suggests giving Lor a makeover. Lor accepts the idea, and says that she could get Carver to help, as he is a 'fashion genius'. She ends up saying that she 'needs Carver'.

As Tino and Carver are walking to the table, they overhear Lor saying this, and immediately take it to mean that Lor has fallen for Carver. They both become panicked as they realize that Lor's crush could change their group forever. Carver and Tino are then shaken, but still return to the table. Yet, once Lor tries to ask Carver to help her, he flees before she can finish her sentence. Almost immediately, Tino follows him, not giving a specific reason why they are so frightened.
Later, Carver converses about the issue with Tino, saying that it is a disaster. Tino agrees saying that their 'fun levels' will decrease because of Lor's crush.

That night, Tino confides in his mother at dinner. His mother says that the only way out of the problem would be for Carver to talk about his feelings with Lor. Tino argues that Carver is a boy, therefore, he is not likely to talk about his feelings. His mother counters that it is the only way out of the situation. While she tries to tell Tino that Carver not talking to Lor will ruin their friendship, Tino tries to change the subject by asking about the meal. His mother becomes frustrated as Tino ignores her as he complains about the meal. She tells him that he could ignore his dinner and it might 'just go away'.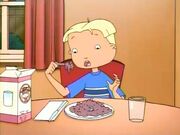 The next morning, Carver again confides in Tino, telling him of his mother's advice. Carver asks if talking to Lor is the only way out of the situation, and when Tino replies that it indeed is, Carver says that they need to attempt to replace Lor, to avoid the problem growing.

Meanwhile, Lor, after getting no help with her makeover from Carver, is at Tish's house, having her makeup and hair done by Tish's mother, while Tish writes a poem for Lor to give to her crush. Once Lor's 'makeover' is finished, Tish's mother leaves the room. After seeing the terrible job that Tish's mother did, Lor immediatly pulls her hair out of the buns they had been put in, and attempted to wipe off the makeup. Tish then recites the poem she had written, but Lor dislikes it also.
Later, Lor and Tish are inside a store, looking for new clothes for Lor's makeover. Lor is beginning to worry about how little time she has and how Carver and Tino are avoiding them. She then comes out of the dressing room she was in, and is in an outfit identical to that of Tish. Lor voices this, and Tish 'agrees' that it is too classy.
Later, at Funville, Lor and Tish are playing pool. Lor begins to talk about avoiding Thompson, just when he walks by. He first asks if her name is Lor, then tells her that he's seen her playing soccer, and that she was good. She then babbles some inaudible words out of nervousness. Thompson then tells her he will see her around and leaves. Lor is upset with how her mouth 'quit working' and that she has totally humiliated herself. Yet, Tish reminds her that Thompson said she was good at soccer and said he likes her.

Meanwhile, Carver and Tino are asking Tino's mom to replace Lor in their group, still trying to avoid talking to Lor. Tino's mother then tells Carver that he needs to talk to Lor and begins to scold him. She tells him that he can't ruin his friendship with Lor just to avoid talking to her about her feelings. She then threatens to have him arrested if he does. Tino then tells Carver that he agrees with his mom, saying that, while they were avoiding Lor to avoid change, avoiding Lor was a huge change in itself. They then agree that Carver has to talk to Lor.

Later, Carver and Tino join Lor and Tish at Funville, Carver telling Lor that they need to talk. Lor agrees and says that she wants Carver to come to the mall with her. Carver agrees, but says that they should talk about how they feel first. Lor is confused, as Carver begins to talk about how he is afraid their relationship is going to change. Lor asks him how, very confused, and Carver begins to go on about how their relationship will progress, but Lor stops him shortly. Lor then asks him what he's talking about. Carver finally stops, and says that he 'wasn't even talking'. Lor then realizes what Carver has been thinking all along, and begins laughing. Lor then tells him that he's like a brother to her, and that she isn't in love with him. Carver then begins to talk about how awkward it is, and Tish suggests that he play pool with them.

Tino then concludes the episode by talking about how the group is still in-sync and how unlikely it had been from the beginning for Lor to like Carver, ending the episode with 'later days'.

Lor: (about Thompson) Those sandals he wears make me crazy! I need to make him love me!
Tish: (about how to get Thompson to notice Lor) I know, I'll write a love poem for you!
Lor: And how would me dying of emberassment help?
Tish: (reading her poem) My love is like a paramesium,
It divides and reproduces,
It is covered it quivering, hair-like silia,
and full of high-protein juices.
Tish: (about her poem) What part didn't you like?
Lor: The part where you were talking.
This is the pilot episode of The Weekenders
This episode has no appearence of the Pizza Parlor, unlike a majority of the other episodes
In this episode, Tino doesn't want anyone to know he asked his mom for advice, yet in episodes shortly after, he says it in public.
When Lor holds her head in her hands after her "makeover", her shirt is all black, where only her sleeves should be black.
One of the Outfits Lor wears is a combination of two of Tish's clothes (the long purple dress with the short under purple shirt (minus white socks and black maryjanes).
Ad blocker interference detected!
Wikia is a free-to-use site that makes money from advertising. We have a modified experience for viewers using ad blockers

Wikia is not accessible if you've made further modifications. Remove the custom ad blocker rule(s) and the page will load as expected.